Flow… and resist!
Flow and resist is a visual narrative where a sequence of images of landscapes and details of nature tells us together with the texts, a story in which to get carried away and flow with the currents of nature, and to resist at the same time those who try to divert, delay and retain. The publication portrays a tour among places where I have walked, contemplated, meditated, camped, lived and photographed, with beautiful Tuscan agricultural landscapes, idyllic images of almond trees and flowering pasturelands, contrasted by winter landscapes, labirths of stones, landscapes "of mars", rugged desert sites and volcanic shores and many abstract details.
These landscapes form the scenarios of this book and represent the flowing and the resistance, or the balance between the two at the same time, in a journey (like life itself) in which you will find places and elements that encourage flow and getting carried away and others that inspire resistance.
I wish you a good trip!!!
The book consists of 176 pages with 101 photos of natural landscapes, of the Peninsula and other places, of which 20 are in a panoramic format.
It also treasures the valuable collaboration of Jorge Riechmann illustrating the chapters with unpublished poems of his authorship.
This content is accompanied by a didactic unit with the 101 photos commented from the point of view of composition, technique and its processing.
Bilingual Edition (Spanish/English) Editado por Clara Lanau, Granada 2019
Cartoné Binding, 22 x 29 cm, 160 pages. For sale in the main bookstores of Andalusia. 
ISBN: 978-84-09-17097-5
Translation by Barbara Sheehy PVP of 35 euros
Andalucía; Landscapes of Empowerment
A publication, using a crowdfunding (micropatronage) campaign at the end of 2015, showing the most varied scenery of the contrasted Andalusian geography. The work contains 80 pictures, each accompanied by famous quotes from philosophers, poets, writers and activists.
The portrayed places are at the same time human and natural reserves, scenarios that facilitate the encounter with oneself, with the inner strength and one´s deeper and more creative side, they are areas where to retrieve being the main character of one´s own life, where to experience the comfortable sense of belonging to all that comes through the senses, where to load or regain energy or to heal wounds and reinforce personal projects, in other words, landscapes of empowerment that will eventually be reflected in changes in the life of each one as in society.
The book includes the valuable collaboration of José María Montero Sandoval, prestigious journalist on environmental issues and known among others by directing the "Espacio Protegido" and "Tierra y Mar" of Canal Sur Tv programs as by its numerous publications and documentaries, whose texts describe the portrayed places.
Bilingual edition (Spanish/ English) Published by the author, Granada 2015 Hardcover edition, 22 x 29 cm, 176 pages.
Available in the main libraries of Andalucía. ISBN: 978-84-608-4363-4
English translation by Barbara Sheehy and Carolina Wilson
Price 30 euros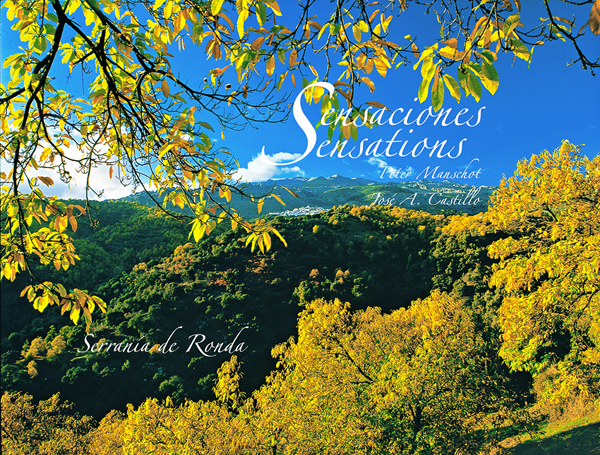 Sensations; Serranía de Ronda
Photographic journey around the Serranía de Ronda commissioned by the Grupo de Desarrollo Rural CEDER Serranía de Ronda with photography, accompanied by descriptive and literary texts, written by the poet and geographer José Antonio Castillo Rodríguez, famous quotations and poems of poets from the Serranía, grouped in nine chapters of sensations that can invoke the landscapes of Ronda.
Bilingual edition (Spanish/ English) Published by the author, Ronda 2011 Hardcover edition, 22 x 29 cm, 176 pages.
Available in the main libraries of Andalucía ISBN: 978-84-615-4902-3
English translation by Barbara Sheehy and Diana Mathieson
Price 24 Euro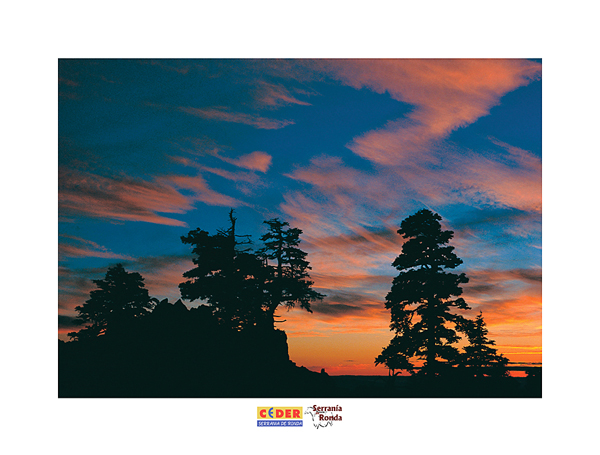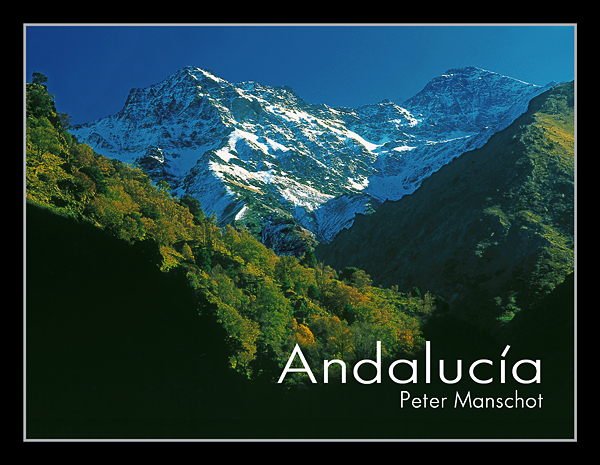 Andalucía
Photography, commitment and nature come together in this large format book of fine design and photographs. It brings us closer to a great variety of landscapes, both intimate and emblematic, of Andalucía in their most photogenic moments. They are accompanied by famous quotations, poetic phrases and texts about the places portrayed as well as practical information about the places visited. A book which goes beyond the merely touristic or naturalistic;  a deep, thought provoking graphic portrait which which "takes us back to a forgotten reality".
Bilingual edition (Spanish/ English) Published by the author, Granada 2006 Hardcover edition, 25 x 32 cm, 224 pages.
Available in most large bookshops in Spain and in the main libraries of Andalucía
ISBN: 84-609-9719-7/978-84-609-9719-1
English translation by Barbara Sheehy
Price 30 Euro